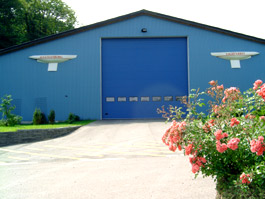 We can offer you storage in two modern sheds with a total of 3600  m². One of the sheds was newly built in 2001. The height of the doorway is respectively 8 m for the new storage hall and 6,5 m for the old one. Therefore, there is plenty of space for maneuvers. Access outside of the normal business hours is only possible with a code. This is your guarantee that no unauthorized person can get in.
The storage price is 35,86 EUR pr. m² exclusive VAT. The storage area is calculated in the following way (l.o.a. + 1 m x beam + 0,5 m).
To the storage price, you have to add the rental payment of a cradle, lifting/launching, rigging and unrigging of the mast and high pressure cleaning. The prices for this kind of work can be seen on the other pages. See "other expenses" under winter storage.
All the masts are stored inside on shelves. There is no extra charge for this.
Our boatyard, which is located in the old storage hall, as we used to call it, can nearly repair everything in wood as well as fiberglass. Our boat builders are very qualified and know how to do their job. Of course, you can carry out the repairs by yourself under our guidance. This kind of help we also offer. The decision is yours. If you are not a handy man we will do the job for you. We are your guarantee that the work will be done properly and with good workmanship.
If this is of interest to you then, don' t hesitate to ask us for price without obligation.