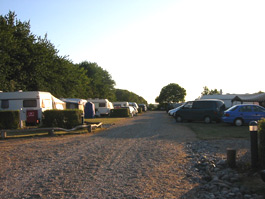 Our camping site consists of 19 units. Each one has 50 square meters of grass and 50 square meters of gravel, giving a total of 100 sqm. This provides plenty of space for the caravan, the car and the tent. Each pitch has its own service unit, which means you have your own water tap and plug for electricity, even your own flush for waste from the toilet.
From the camping site you have a fantastic view over the fiord and the ducal palace on the other side. We have a big playground, and a nice barbecue area in our small forest. The sanitary facilities and washing machines are near the playground, so you can actually spend a couple of days with us without any problem.
The town of Augustenborg lies a short walk from the marina - approximately 500/700 m. You won't have aching legs! Even though it is small, there are plenty of opportunities for shopping. In the evening you can take a nice walk along the water's edge over to the palace from where you can see your camping site and the harbour.
We wish you a pleasant stay with us.
Price
The season starts at the 1st of April and finishes at the end of October. It is possible to leave the caravan on the site until spring.
The price for a season is 1.069,69 EUR + electricity. There is a separate calculation for each site. No other charges.
The price for the winter is 203,75 EUR. It is forbidden to use the caravan during the winter. It can only be stored here.
Price per day:
21 EUR per caravan + 3,50 EUR for electricity.
All prices are inclusive VAT.